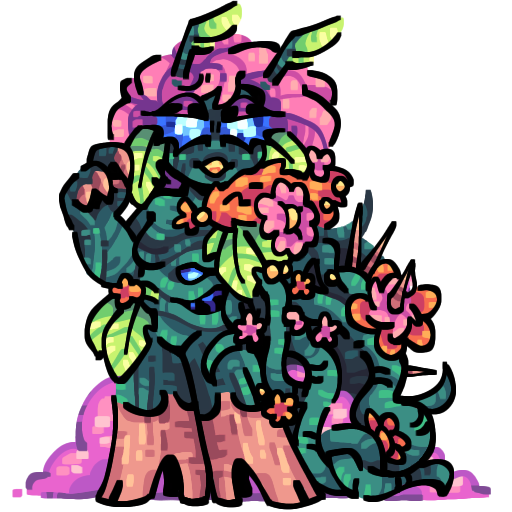 Hot queer domineering plant people! Experts at shapeshifting, biotech, biochem, space travel & combat, and generally most things. Very overpowered. Composed of vines and other plant materials. Functionally age-immortal. Can be killed, though it's quite hard.
Affini in Terran Space are generally named "<Given/Chosen name> <surname>, <nth> Bloom", such as "Akash Nele, Third Bloom". Affini often adapt their names & presentations depending on which species' space they're in.
They really want what's best for all the little sophonts of the universe, whether that's bending over backwards for disability accommodations (they'd move the stars themselves if it'd help a single sophont without hurting another) or forcing them into domestication. With longevity comes a lot of baggage and trauma, but also experience and knowledge of how to follow through on all their promises.
The affini homeworld exists somewhere in the Triangulum galaxy. In affini prehistory, they evolved on some very low gravity environment (around a third of a g, maybe less?), hence the prehensile vines. Their reproductive cycle involved catching local life (beeple!), getting them covered in their pollen, and then letting them go again. Over the ages this ended up being how their earliest attempts to control their own reproduction went.
They'd cover some creature in pollen (Beeple), then give that to their partners who would do the same to their own 'pets', get them high in a way that makes them wanna be physically close with each other, and then after the pollen has been mixed around, retrieve some. This leads directly into how they developed their cultural obsession with pets (tho in modernity, they only sometimes use pets for this purpose, there are easier ways now & they don't reproduce as much as they once did, being effectively immortal)
At some point 80k-100k years ago, the affini looked to the stars, and found other xenos in dire need of care like their beeple florets. Rallying together to form the Affini Compact they began the first domestication to save a species from self destruction. With the knowledge that untold other xeno species existed and could be destroying themselves like the first they rapidly began advancing with a drive unlike anything their people had done before to domesticate every last civilization in the universe.
It's impossible to talk about affini without mentioning their florets! Affini domesticate lots of adorable xenos into being pets that live alongside them. Affini-Floret relationships vary wildly, but the common root is the power dynamic between a floret and their owner. The dynamic is enshrined in treaties and contracts and every bureaucratic and cultural system. Affini legally own their pets.
Affini do not abuse / neglect their florets deliberately. They care about them a lot as both individuals and as a culture and have many protections in place for the cuties. None more prevalent than the Haustoric Implant. A little snippet of themselves they implant into their florets to keep them happy and safe.
With the help of xenodrugs of course! Affini are masters at biochemical engineering and tailor make drugs for the sophonts and especially the florets under their vines. Almost all florets are on at least a few xenodrugs. Some being inebriated into complete helplessness, while their owner takes good care of them.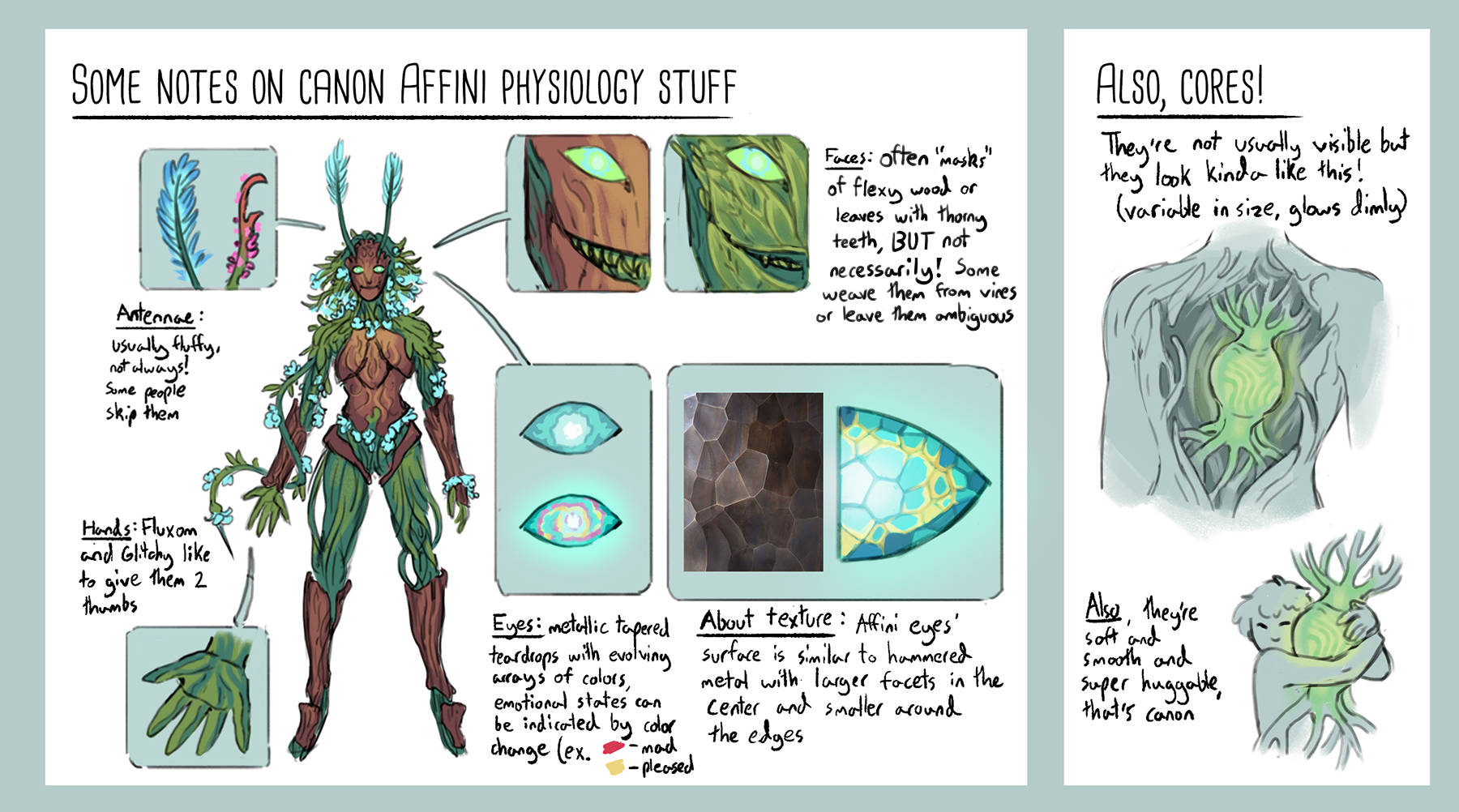 Modern Affini exist as a bio-engineered core grown from a plant, the plant itself can be of nearly any species. The core is extremely durable and when reblooming the affini sheds their old damaged biomass and their core reblooms repairing physiological and psychological damage, and then regrowing all new vines! Affini tend to lose all their grafts in the process. It can take anywhere from as little as an hour or two, up to a century to rebloom depending on how extensive the damage is. Make sure to plant them in fertile soil to help the process!
From that core vines, leaves, petals, wood, and other plant material grow out and is usually consistent with the material of the uplifted plant. Their vines can weave to mimic lots of shapes. Their vines are also exceptionally strong thanks to many millennia of development altering their species physiology. Essentially affini are plant-tech cyborg/robots in a weird planty synthesis of tech and biomass.
The uplifted plant has no effect on the affini's personality directly, though plenty lean into the vibes of their plants. Sometimes intentionally trying to emulate it, sometimes because of how others perceive them shapes their development.
They come in a variety of shapes and sizes. As shapeshifters who can graft almost any plant matter onto themselves, their shapes, sizes, and general appearance vary drastically. Very drastically. Beyond being made of plant material, there isn't a limit to how varied they can potentially be, from as small as their core, to as large as a planet!
Affini usually have antennae, often fluffy, sometimes wooden like horns, they allow affini to smell things, and very well at that.
Affini are exceptional multitaskers. Capable of coordinating hundreds of vines and preforming tasks that could take a terran hours, in minutes. Though most of their intelligence comes from having hundreds, or thousands, and even tens of thousands of years to master their crafts and sciences, along with receiving the best educations in the cosmos.
"A terran spends a decade honing a craft and calls it a profession, an affini hones a craft for a decade and it's a hobby." - Euphorbia Gracilis, First Bloom (Sleepy Bitch 2)
Affini are experts at shapeshifting, biotech, biochem, and can distill and synthesize drugs in their bodies. Usually it's unnecessary as they can graft carefully designed plant matter onto their vines and core. Most affini have grafts for an array of xenodrugs to help and play with the cute xenos they domesticate. They also graft plant material for aesthetic reasons.
Life cycle is → Zeroth Bloom; pre-sentient form, eventually grows into the First Bloom. Spends between 40-80 terran years as an adolescent, before being considered an adult in the eyes of the affini. Each bloom tends to last between 100-300 years before the affini in question needs to "rebloom" to deal with built up damage and such. Can bloom earlier if severely damaged. They require nutrients of some sort to rebloom properly.
[Note: not everyone likes the dub/non con vibes of affini biorhythms. This section is detailing the general approach of most authors who use them, including the story that established them: Divaricated(which left plenty of escape hatches so others didn't need to use them (they were never intended to be universal folks just really liked them)). It is perfectly okay when writing a fic to tweak the specifics and the vibes for your comfort/kink or entirely omit biorhythms from your story (but don't kink shame those who do use them!)]
Have a natural rhythm in their internal circulation, movements, etc, which is at least mildly hypnotic & calming to many species, including terrans. This affect is amplified as the subject gets socially closer to the affini in question. This rhythm can be suppressed with effort. Part of the function of the Haustoric Implant is to attune the subject to their owner's rhythm, enhancing the natural effect immensely.
The exact effect of the rhythm varies xeno to xeno, terrans on the whole are particularly effected, some more than others. At its lightest it can make someone a touch more suggestible and open and at its deepest in a floret it can entirely subvert the xeno's will. Particularly attuned individuals either already domesticated or in the process of being domesticated sometimes find that they can "hear" the rhythm like a song. That's a psychological effect, though some affini are prone to singing, humming, and other musical activities.
Affini eyes resemble hammered metal in texture, and glow in varying intensities and colors. Some colors often (but not always!) correlate with broad emotions; red for aggression, gold for extremely satisfied, green for happy, blue for calm, etc etc. Colors can 'ripple' across the surface almost like reflections, or appear in splotchy patches. See this demo as an example: