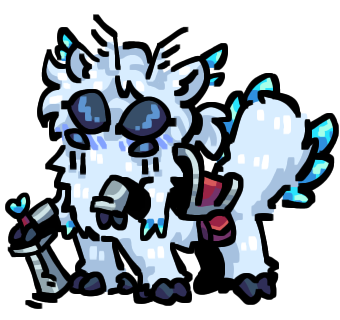 Originating from an unusually dense moon named Lumia orbiting a large gas giant named Colossus, Mothtaurs are loyal and deeply devoted little sophonts, with a strong culture still reminiscent of their knightly era they made first contact in.
Mothtaurs walk on their 4 lower 'legs', using their front 'hands/arms' as manipulatory limbs. They're covered in fluffy but slightly scratchy fur, as well as a few adorable bioluminescent feathers-like appendages on their ears, tail, and chest, which are used for expression. While generally only reaching 1.5m or less in height, their bodies are lengthened by their broad tail (which they cant help but wag when excited!), bringing their maximum length to 2.2m.
These brave little sophonts' home world has a mildly higher gravity of around 1.2g, which has allowed them to be faster, more agile, and overall stronger than many ward species in Rinan/Terran Space, despite their comparatively diminutive (but still imminently domesticatable) forms.
Also notable are those little antennae, which are delightfully sensitive, and are composed of numerous chemically receptive hairlike strands. These antennae are wonderful xenodrug receptors, while the rest of their body is perfect for cuddling, adoring, and otherwise petting.
¶ Culture and History
The little cuties' culture consists of large theatrical displays of competition (just precious), deeply traditional ceremonies (very studious), and a commendable respect of honor and loyalty, especially towards their owners!
Mothtaurs were initially domesticated during their pre-industrial era, during which they had a surprisingly healthy culture of honorable combat, which was based on a heavily codified system of restrictions and allowances that helped them adapt to life under the Affini Compact soon after first contact. However, they also had a less than healthy monarchical political system of kings and lords, which did of course have to be quickly dismantled. Feral sentiment was largely limited to nobles & their ilk.
Their domestication was completed without any substantial feralism after several kingdoms challenged the first contact team to competitive 'trials', which were of course easily bested by our domestication program's xenoanthropologists. This 'show of force' convinced the vast majority of the populace that we were more worthy of their loyalty. Ever since, much of their combative energy has turned to thrilling sports, and their allegiance to kings turned to reverence towards their seemingly mystical saviors.