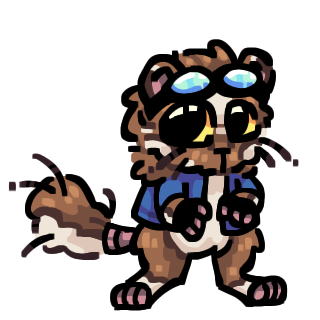 Rinans are small nocturnal mammalian xenos. They roughly resemble Terran sugar gliders or small rodents. They originate from a planet called Nyrina, located on the edges of greater Terran space. Prior to its 2486 CE partial annexation and subsequent 2521 CE full annexation into the Terran Accord, the Rinan government was known as the Rinan Community.
Rinans are naturally inquisitive to a fault, seemingly almost fearless, with little concept of personal safety; this leads to their technology often being experimental and dangerous, in the name of science.
Before first contact with the Terran Accord, the Rinan Community had explored much of their home star system and colonized Nyrina's moons as well as one other planet; They had also visited 3 other nearby star systems using experimental Jump Drive technology. Several of these experiments malfunctioned during the course of the Rinan space age, destroying the ships and throwing the wreckage and sometimes survivors through hyperspace into Affini Compact space.
Rinans are small rodentlike cuties, about 2-3ft tall standing up, have large black eyes, and are covered in short fur. They have 6 fingers on each hand, 3 of which are thumbs, ordered (moving outwards): thumb-finger-thumb-finger-finger-thumb. The two adjacent fingers are webbed together, referred to as a "handscoop". They speak in a sort of chittering, chirping language, and for communication with xeno species they have both a complex sign language and technology that can translate in real-time and output a simulated voice.
2479 CE: first tentative indications of intelligent life detected in the Rinan system by Terran scientists (disputed for the next 3 years)
2482 CE: uncrewed Terran probe visits Rinan system; confirms intelligent, space-faring civilization (first ever encountered by humanity; kept secret by the government at first)
2484 CE: news of sapient alien life leaks to the Terran public; "Xeno Panic" as many in the public fear pending interstellar war; many corporations stockpile weapons arsenals
2485 CE: Terran xenolinguists create the first rudimentary translations of Rinan communications; official First Contact with the Rinan Community
2486 CE: first Terrans visit Nyrina, the Rinan homeworld
2486 CE: Rinan actions during initial diplomatic negotiations prompt the Terran Accord to annex Rinan Community space as a "Special Administrative Area"
from about 2499-2520 CE: slow but increasingly bold Terran attempts to get Rinans to participate in the capitalist system
2521 CE: Terran Accord drops all pretense of Rinan self-rule and assumes direct control over all forms of governance in Rinan space
2521-2551 CE: Rinans integrated into/subjugated under Terran Accord rule; most Rinans remain within former Rinan space
2551-2552 CE: Terran abuses of Rinans peaks during Terran Defense War; Rinans used as disposable tools in the war effort or for bioweapons testing
2553 CE: Affini Compact reaches the Rinan home system; retreating Terran Cosmic Navy forces attempt to deny the Affini a victory by annihilating Nyrina with orbital nuclear bombardment; Affini prevent most of the damage
2553 CE: newly re-established Rinan Community government capitulates immediately; Rinan Domestication Treaty signed
some time in the early 2000s CE: the Affini Compact expands to the Milky Way
2471 CE: an early experimental Rinan jump drive implosion throws half of a Rinan ship into Compact space; Affini recover 3 living Rinans with no indication of their origin
2471-2486 CE: several sporadic incidences of Affini-Rinan contact as similar incidents throw Rinan debris into Compact space
2486: last recorded incidental Rinan-Affini contact before a 6-decade gap
2547: Affini recover a wreck with unknown (Terran) origins, discovering aboard it a half-dozen extremely shell-shocked Rinans and one (1) severed digit from an unknown species; one surviving crew member is a Rinan astronavigator able to identify the Rinan system's location for the Affini
2548: the Rinan Cotyledon Program officially begins; an Affini Compact scout ship investigates the outer reaches of Rinan space and discovers the Terran Accord