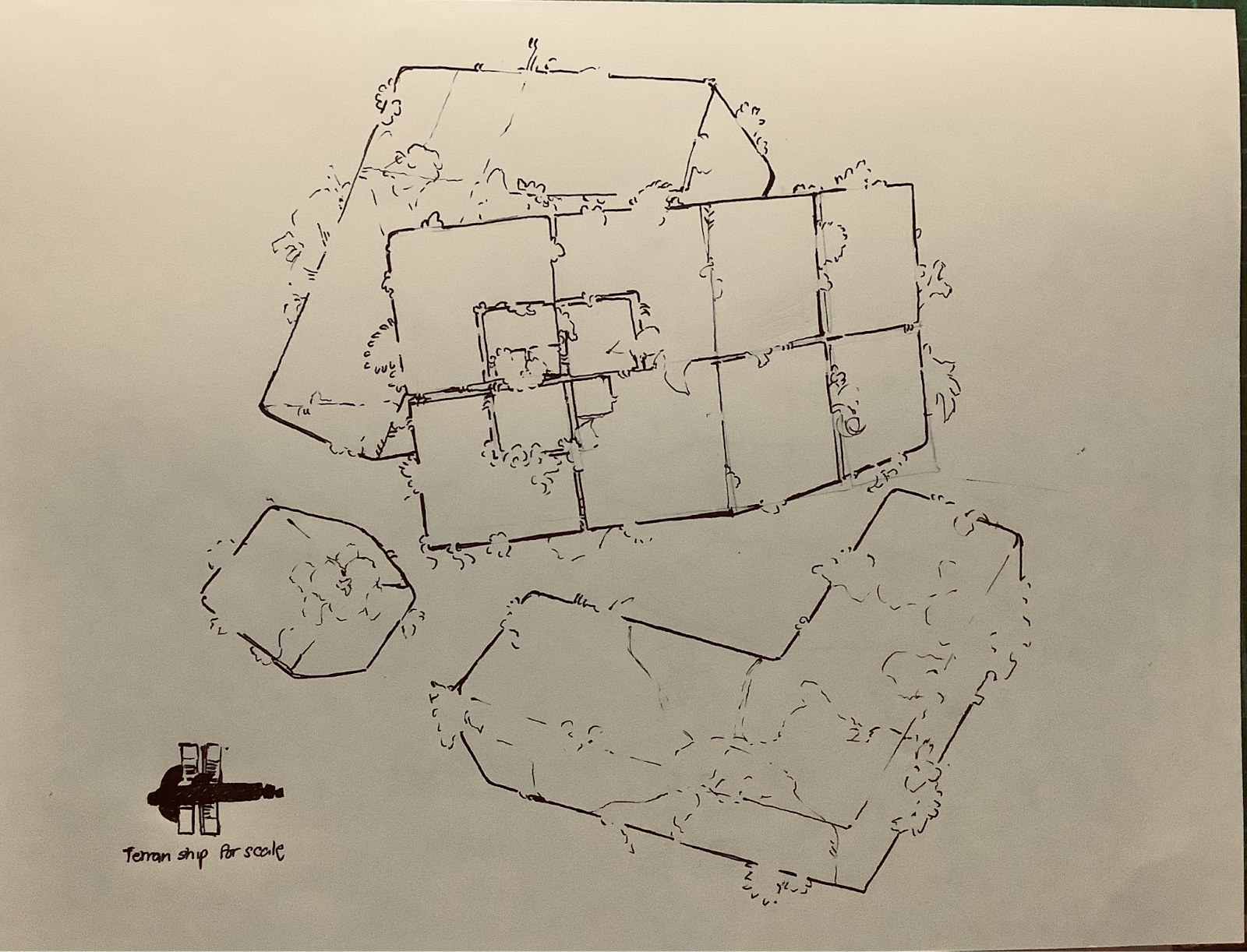 Modular Amalgamate Autonomous Mail Carrier aka cubeship aka the "Officinales"
The Officinales is an amalgamate ship composed of smaller and smaller cube-shaped drones. This arrangement self-divides into various sectors, each further subdivided according to destination. While the various point-to-point delivery drones that compose the Officinales remain dispersed throughout local space most of the time, they reconvene to form the following large, cube-shaped arrangement in preparation for long Jumps or travel by Gate.
Individual drone cubes can vary in size. Mail cubes in Nyrinan space are often small, measuring around 10cm x 10cm x 10cm. These cubes are meant for sending communiques, mail, flowers, and other trinkets.
While there is no hard upper bound in size for mail cubes, sufficiently large packages will often be picked up in person by the receiving ship. As a guideline, think "probably don't ship anything bigger than a hab unit". Of course, the occasional large package will still come through, disassembled into smaller discrete parts while in transit.
As for their appearance, each mail cube is a wonder of plant-tech, consisting of a core surrounded by a tightly-interwoven three-dimensional lattice of vines. The edges are soft and plush, for safety, and the exterior may have personalized aesthetic details, such as vines, leaves, and flowers. For independent sophonts with strong preferences to the contrary, a "boring" configuration is used, which appears as a flat, softly glowing white cube.
Biometric matching ensures that each cube only opens for the intended recipient. Each cube is covered in thin, near imperceptible runners, which allow cubes to weave and pack together tightly. The resulting arrangement of cubes is a stunning variety of size, color, visual appeal and texture, floating and spinning playfully around the floret for maximum enrichment
On Intergalactic Mail, Shipping, and Public Transportation or, how it is the cube, not the hexagon, which forms the backbone of the Affini Compact Author: Cuteflo Rette, Second Floret Ramet, 2842

Back on Terra-that-was, before its rescue, an event known now as the Great Privatization split the mail system into fifteen geographically unconnected networks. Prior to this, it was possible to mail a letter on one side of the planet and have it arrive on the other. How was this lost secret achieved? Why, very similarly to how the modern day Integrated Logistics Hierarchical Cube Web functions, though of course on a much smaller scale and with much less efficiency.

One sad Terran could place their message inside of an 'enclosulope', a small plastic cover which protected the contents from the roaming lions and horses which were endemic to early Terran life, and then place that inside of a static mail tube. Once per week (always precisely five minutes before you arrived at the tube to place your mail within) a "postal operator" would travel to the tube, take out any mail, and determine whether it was local or remote. If local, it would be delivered by hand. If remote, it would be sent to a processing center which would make a similar decision to decide whether to route the mail onwards to a larger processing center outside of its covered area, or send it to a smaller one inside its covered area.

In this manner, a letter could be efficiently routed from anywhere to anywhere.

Enter, then, the Cubeships. An Affini Logistics Cubeship handles the entire process of delivering mail from pickup to delivery. A cute floret may put a message inside of a delivery cube of arbitrary size, depending on the contents of the package. These cubes are purpose-grown micro-spacecraft typically capable of navigating within local space. Our floret gives her cube a pat and sends it on its way, and so it flies onwards to the local mail node, where it awaits an infoarchitect's careful eye to stack the individual delivery cubes into a larger transportation cube of arbitrary size. These transportation cubes combine the motive force of the delivery cubes to create a more capable spacecraft, which is then launched to meet the planet's Postcard in orbit. Several transportation cubes are packaged into a Cubeship, a fully Jump Capable logistics unit which is in principle capable of delivering a message anywhere in the known or unknown universe.

However, doing so would be chaos. Each Cubeship communicates with the cubeships in its local system to trade smaller cubes and more efficiently pack deliveries. A typical delivery network will contain dozens of local Cubeships which occasionally negotiate to place all the out-of-system mail into one dedicated Greater Cubeship, with an area of operation of anywhere between 2-5000ly depending on the population density of its local space.

At any point, a Cubeship of any size greater than a single delivery cube may spontaneously decompose itself into an arbitrary arrangement of smaller Cubeships, allowing for certain packages to split off as the larger arrangement passes through a system, or for a larger variant such as the cross-galactic Mail Carriers to break apart entirely into mere colossi upon arrival in their destination galaxy. Through this approach of constant merging and separation, the efficient backbone of the Affini Compact is born, and so anybody can send anything anywhere in a time rarely exceeding the point-to-point direct jump route of even a Gatecrasher by more than twenty percent.

Further, by ensuring the cubes are of arbitrary size and interoperate on well-defined standards, a delivery cube can contain anything from a single atom to a letter to a package to a floret to a home—while it is generally recommended that anything larger than a small shuttle should be transported more directly, the Cubeships are here to enable logistics on incomprehensible scales.